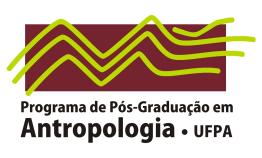 The Postgraduate Program in Anthropology of the Federal University of Pará, through the Selection Committee of the Selective Process for the Masters and Doctorate courses / 2018. Every year, in the period of 01/12/2019, was approved by Administrative Rule Nº 12/01/2019, due to the recess of the federal civil service for the celebrations of the holidays of the end of the year. 10,960, dated October 26, 2018, issued by the MPDG Secretariat for Personnel Management.
In relation to the applications for the Master and Doctorate Selective Processes / 2018, an Information Selection Commission that integrates the days 02 and 01/04/2019, may be included as prescriptions of performance standards as below and, as the online registrations period of recess.
Face-to-face registration with the PPGA secretariat:
Day 12/21/2018:
From 8 am to 4:30 p.m., at the PPGA secretariat;
From 02 to 04/01/2019:
From 8 am to 1:30 p.m., in the secretariat of the PPGA;
From 2:00 p.m. to 4:30 p.m., no computer lab at PPGA, located at the Arthur Napoleão Anthropology Laboratory (LAANF), did the IFCH.
Prof. Drª. Jane Felipe Beltrão
Chairman of the Selective Process Selection Committee
Ordinance No. 016/2018 / PPGA-UFPA